"Superb 1971 BMW 2002 - This 1971 BMW 2002 has been nicely restored and upgraded, and is very well presented by a marque specialist who we have featured before. We like the 5-speed trans, Mini-Lite style wheels, uprated suspension, and a Weber carburetor. " - BaT
This car was purchased by the NTX Museum and is now on display in Dallas.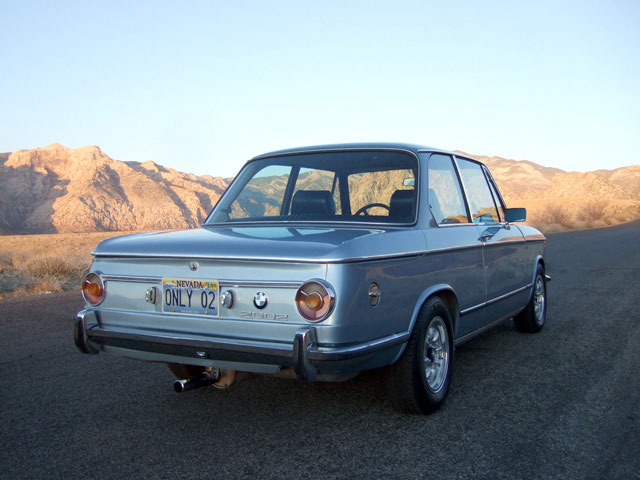 Exterior
I've owned this car for five years and in 2008 it received a bare metal, glass out, re-spray done in Fjord, a color that looks simply stunning on the 2002 and it still looks great today!
After paint, new seals were fitted throughout including: door seals, windshield seals with new chrome locking strips, a new windshield, all new quarter window seals and vertical seals, new door handle seals, under-hood engine seals and many more. Even the side windows have been fitted with new channel felt and new squeegee rubber.
All the trim work was professionally polished including: belt line trim, b-pillar trim, quarter window trim, rocker trim and more, all the way down to the polished wiper arms.
The headlights are new flat Euro H4's, the flush euro turn signal lights are new, as are the license plate lights and many more exterior items, including new: driver and passenger mirrors, antenna, lower side moldings, grill lens, roundels and so much more.
Interior
Nicely contrasting the Fjord, new black upholstery has been fitted throughout including: Recaro seats, headliner, carpet kit, rear parcel tray and pillar vinyl. The front and rear door panels have also been redone including new boards.
All the instrumentation is fully functional and the cluster has been rebuilt by Hollywood Speedo and calibrated to the e21 5 Speed.
The heater fan has recently seized due to lack of use and the heater valve must be manually operated from the engine bay, but more important for our part of the globe, the A/C Unit is fully functional and blowing at a chilling 41 degrees.
The trunk has been fitted with new trunk boards and new vinyl, and the previously fitted rear battery has been relocated to the stock position in the engine bay.
Mechanical
The engine has a rebuilt cylinder head and has been fitted with all new ancillary components including new: fuel pump, belt, fan blade, coil, plugs, rotor, cap, wires, pertronix ignition and more. It also has a new 38/38 Weber fitted to a polished intake manifold that provides plenty of power.
The electrical system has a rebuilt alternator, new voltage regulator, new battery and new battery cables.
It runs cool in the heat of the NV desert with a larger metal tank e21 radiator, new water pump, thermostat and all new hoses and clamps.
The clutch kit is new and the e21 5 Speed transmission shifts smoothly and has no grinding synchros.
The suspension features Bilsteins and H&R Springs on all four corners. Polly Bushings have been fitted to the A-Arms, Radius Rods, Diff Mount and the Sway Bars front and (adjustable) rear.
The brake system has been updated with a big brake conversion and the vented rotors and larger calipers are all fed with stainless steel brake lines.
The Air Conditioning System has a rebuilt York Compressor, separate relays operating the new auxiliary fan and the compressor and blows ice cold thanks to an oversized condenser.

Come To Vegas!
Terms of Sale